GROWHOUSE FEATURES
Add-ons to your Living Machine Growhouse
Adding extra features to your Growhouse
All our add-on features are designed for maximum output for minimum effort. Choose your features below!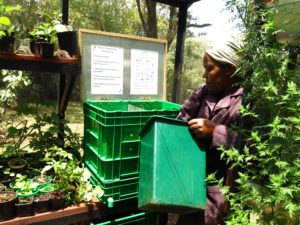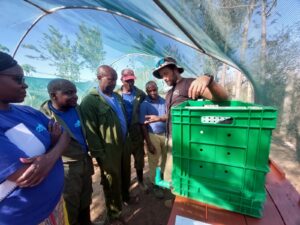 Worm Compost Kit & Training
Go green its time to rethink your waste!
Perfect for Urban composting & turning kitchen waste into rich compost!
This kit comes with everything you need to start your home composting unit, 1kg of worms, worm bedding and a worm composting guide. A Compost made with worms has been proven to contain up to ten times the plant nutrients found in compost made from a traditional compost pile.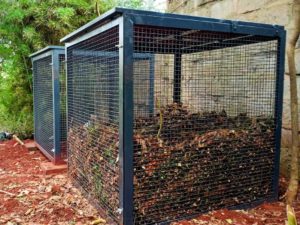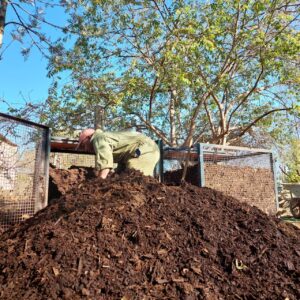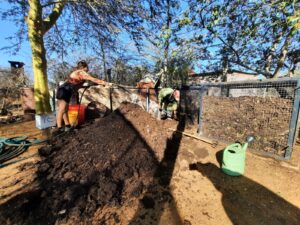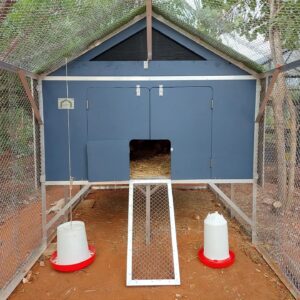 Bulk Composter & Training
Great for bulk composting & replenishing your vegetable garden
Size: 1.2 x 1.2m per bin
Easy to use and efficient for home composting 
These bulk garden composting units offer an organized and easy to use system for any household to use. Large bins enable composting to happen faster. Included in this is an organic composting system training and a methods approach to ensure the best compost is made.
Chicken House Produce your own organic eggs and use the chicken manure as potent compost
Size: 4mx2.5m
Ideal for: 15-20 chickens
This chicken house is designed to be easy to use and clean and the spacious chicken coop helps keep chickens healthy and happy. The easy to harvest laying boxes also make it a great first chicken coop to have at home.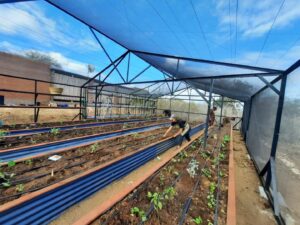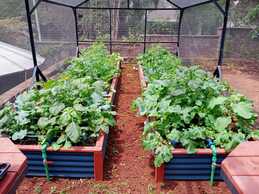 Water efficient watering systems
Drip irrigation is an extremely efficient and effective way to water your plants, saving water from evaporation and retaining moisture in the beds. Why not boost your growing capacity by using one of our drip irrigation setups, which not only saves you water but time and helps your plants get strong quickly! We can also offer an automated system.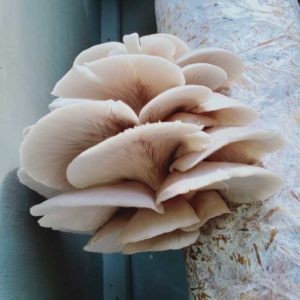 Mushroom Home Growing Kit
A home grown protein source that's maintenance free!
A zero waste reusable mushroom kit!
We offer white & pink oyster mushroom kits that can be managed by our team so that you get consistent mushroom production for your kitchen! We offer a reusable bucket scheme where we replace the buckets every 2 months with freshly inoculated mushroom spore so that you can keep harvesting mushrooms! Meaning no plastic waste!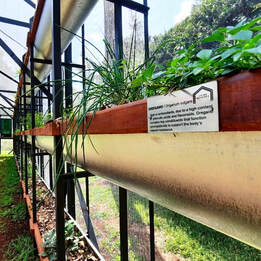 Little metal labels are a perfect way to learn more about plants & their medicinal properties.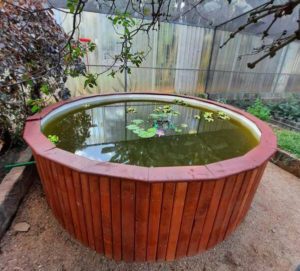 Grow your own organic fertiliser for your plants & your own protein!
We offer two designs one in fibreglass one in HDPE plastic membrane.
This is a flow through System where the highly nutritious fish waste is fed to the plants in the growhouse and garden. This can be plugged into a house grey water system too.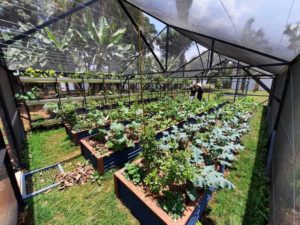 Size: Custom made
Very user-friendly way to grow food, easy to manage and maintain. Low water consumption due to layers of organic matter built into the raised beds and slow release nutrients macro and micro.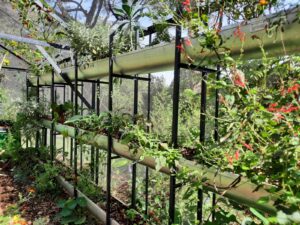 Size: 3x2m (units)
Efficient use of space & water for urban growing!
The living wall is a 3×2 m (WxH) structure that can hold up to 30 or more plants . This is made with galvanised steel troughs in a wooden framework. Perfect for herbs, medicinals and low maintenance plants!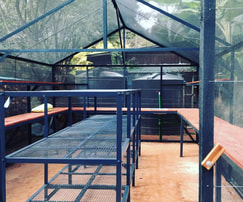 Nursery Propagation Racks
We offer steel framed potting racks for storing seedlings of all types. The ventilation between the shelves allows for good air flow and light access.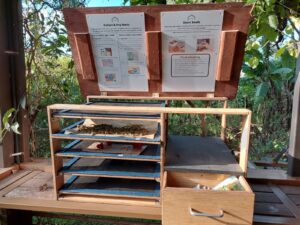 Size: x4 tray seed dry rack
Seed save for resilience & self-sufficiency
We offer a four-tier seed & herb dryer rack system taking a large amount of seeds and herbs and mushrooms etc and allowing them to air dry naturally and be stored.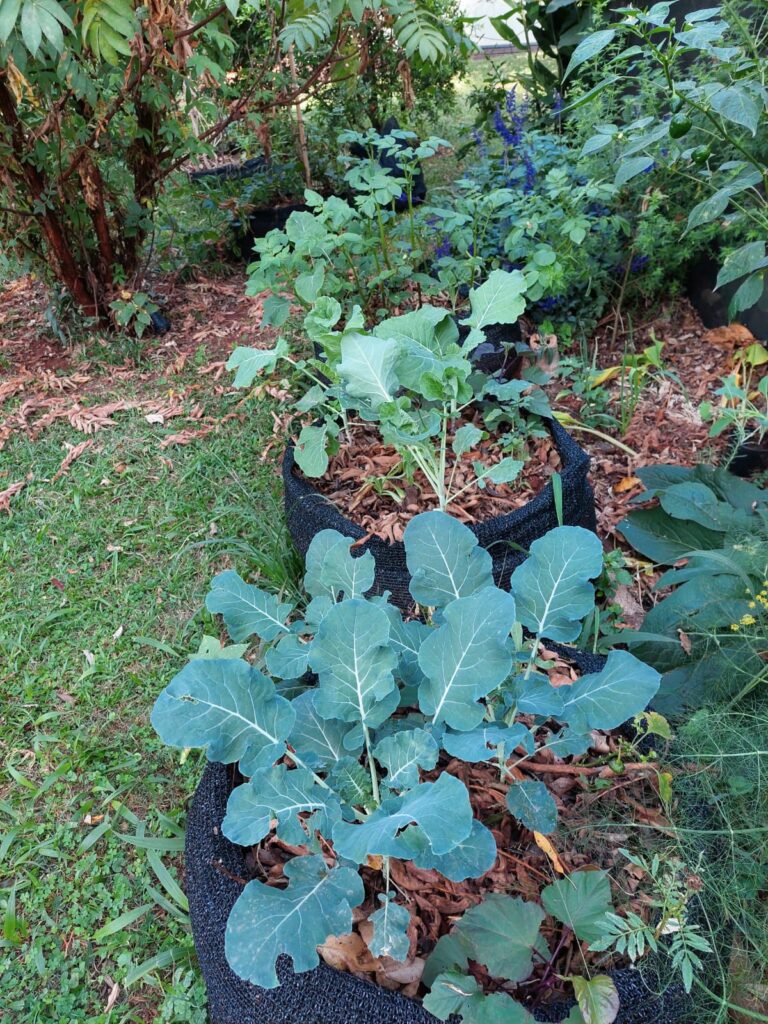 These shade net sacks are simple and easy for growing potatoes and other leafy greens.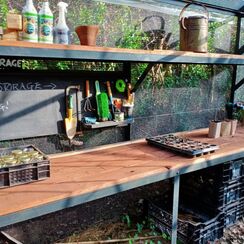 A simple setup for hanging tools and keeping them organised in the rowhouse
This item is a perfect male friendly addition any growhouse- allowing great use of space for tool storage and garden management. ​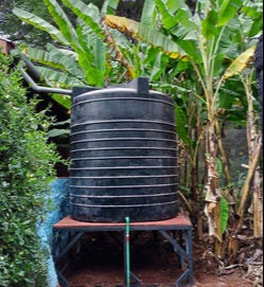 There is nothing more important than collecting your own rainwater from any rooftops you have- its free water for your vegetables! We offer the full range of options from collecting the rainwater from your roof and storing in a tank to grey water irrigation to the growhouse. ​
Vertical Growing: Climbing & Trellising Frames
Stand alone steel framed climbing trellising great to beans, berries, cucumbers and more!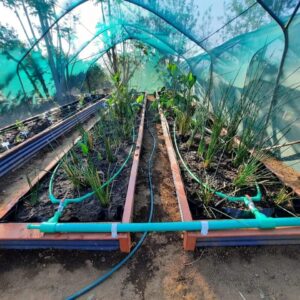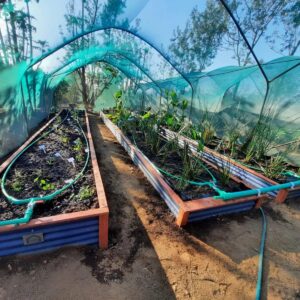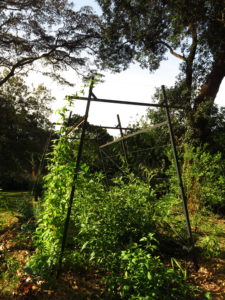 Grey Water Filter Raised Beds
We can also offer bespoke greywater filter beds. These are designed as lined beds with natural bio-filters such as pumice and sand.